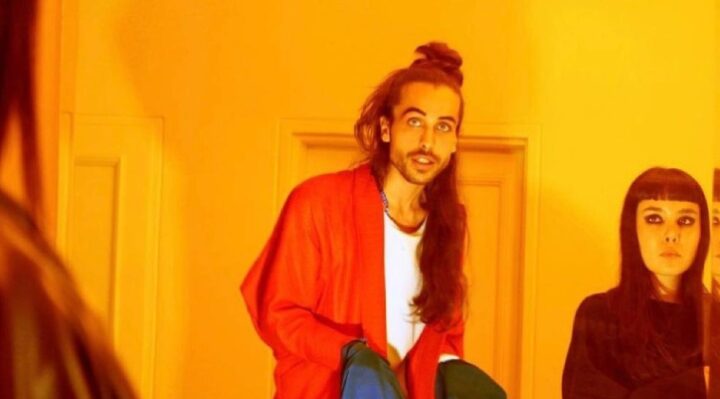 Based in Tehran, Salar Bilehsavarchian was born on 1st May 1993, He is the forefather of conceptual fashion based in Tehran, Interdisciplinary arts in many forms with no boundaries, with the alter ego Salar Bil, an alternate self referring to fictional literature and other narrative persona of him that broke the super-ego which means the ethical of the personality that provides the moral standards ,he broke the idealized self-image in Iran, he was openly non-binary from the beginning and do not believe in differences between any kind of gender category in Anno Domini era, he paved the way for lots of queers and empowered them as assistants and team workers, he's an artist, writer, translator who has worked for years in the field of underground art, under strict laws. He works actively in the fields of filmmaking, photography, directing, stage design, painting, collages, fashion, theatrical costumes, hair and make up, at the same time as a voice for aspiring artists and the injustices of double standards, he's continuing with appropriation art and makes new waves with academic articles and contacts with important icons of the art world. Before COVID-19 he made air masks of dogs and a concept of Exit, Voice, and Loyalty by Albert O. Hirschman and after the covid he made revolutionary street-performances with cultural appropriation he explained to us: " why Moschino S.p.A. simply can cultural appropriate our carpets and sell it very expensive but someone like Tahmineh Milani a pioneer in a patriarchy industry of Iran try to earn money from paintings that she drew by her own hands is plagiarism, copyright is a American idea but I have practiced painting all my life, and i had teachers who made me copy to learn, i mean you can learn to draw through copying since it can help you improve your drawing skills." Bil tried to tell the American artists such as Kim Gordon with her song "Air BnB" the Copyright Law of the United States grants monopoly protection for original works of authorship but actually U.S. Which banned Iran with sanctions that made Salar switch his career from blues everyday people of Bandarabbas to Protopunk for protesting about Iran's economic situation.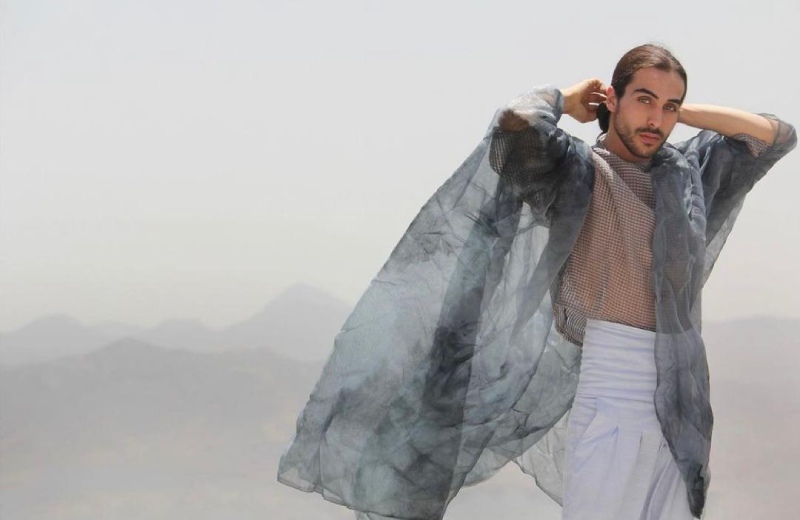 Salar is making no waves with academic articles with Patti Smith, Christina Aguilera, Grimes, Amanda Palmer, Erykah Badu, Cat Power and Peaches, in the fashion world by Adrian Joffe, Stefano Pilati, Michèle Lamy, Steven Kelin, Tim Blansk, Olivier Theyskens and many more he also wrote for Fashion Revolution global movement and explained that 'Sustainable fashion' is one of the most widely used terms in the fashion industry today. It is not only about the trend of socially responsible brands with ecofriendly products or coming up with some regulatory policies but also for catering to upcoming demands of conscious consumers to adopt sustainable fashion. Consumers have evolved over the ages and have become educated about the materials and manufacturing process, which results in their growing interest to make socially responsible choices while updating their wardrobes with a value tag. In fact, International brands like Patagonia, People Tree, H&M, Thought, Indigenous, Rent the Runway, Stella McCartney have become more focused to approach fashion in as ethical and transparent manner as possible considering both environment and customers. Emerging slow fashion brands like 11.11, [Ka] [Sha], Doodlage, Raw Mango, Bodice, Rustic Hue etc. are dedicated to design and offer clothing made using fair and ethical means such as providing safe working conditions to the factory workers, working with handloom weavers and artisans to create handcrafted products, sourcing organic or recycled raw materials and up-cycling post-production and post-consumer wastes. The gradual shift from fast fashion to a sustainable and socially responsible fashion is clearly visible around the globe. Both new and old fashion brands, are undergoing transformation day by day with new business models, new age fashion labels and supply chain practices to address the awareness and demand for sustainable clothing. Here we discuss on the forms of sustainable fashion, sustainable fashion brands strategies, consumer transparency and the driving forces and scopes; how fashion brands and consumers are advancing towards sustainable fashion. Sustainable fashion, with synonyms such as eco-fashion or green fashion or ethical fashion or slow fashion, has become a trending topic today. Where 'Fashion sustainability' is trending as a buzzword to gain attention and credibility, fashion brands are re-thinking about their business models and switching to more sustainable production and operation approaches. Consumers with growing awareness of the movement are supporting the brands that are environmentally conscious and produce ethically.
Consumers' positive mindset towards sustainable brands with environment concern, business plans and techniques is increasing. The fashion industry has witnessed remarkable changes in terms of sustainability over the past few years. 'Sustainability' in fashion has become the major focus for long-term growth and environmental impact. Being the second most ecologically harmful industry with 1.5 million tons of waste, the fashion industry puts into landfills every year. Sustainable fashion is becoming an expectation, as brands, designers, retailers, and manufacturers are becoming cognizant of the devastating effect of fast fashion on the surroundings. Fashion movements like #WhoMadeMyClothes are trying to bring transparency to the back end process of manufacturing to the consumers by keeping them informed (Fashion Revolution 2018).
Consumers today want to pick styles meticulously not only to feel good about themselves but also how much they contribute to the person's life who makes them (Grazia 2018). Sustainability is now crucial for fashion businesses due to consumers' escalating consciousness about the ecosystem (Shen 2014). Environmental sustainability is now being considered as a management agenda. It is being put on high priority across many fashion brands. It's all about maximizing benefits while minimizing negative impact. These brands are diving their society, environment, employees and customers in the right direction. Establishing a brand takes a much longer time than to spoil it. Design labels are adapting fair-trade practices, conscious design techniques like recycling and upcycling, and collaborating with craftspeople to bring in a sense of responsibility in their design creations. Brands realize that they need to connect with their customers in order to establish a strong relationship with them. They are putting strenuous effort to expand the emotional connection customers have with them by generating a more personal connection with marketing strategies like supporting charitable organizations, which are meaningful to their customers or offer ecologically friendly fashion choices. The digital influencer campaign is one such marketing strategy. Clothing is the basic need for human beings, but in the middle of a fast fashion culture, the industry has ended up witnessing serious consecutions for people and the planet. Eco-fashion has become a key trend for consumers especially the young mass. Documentaries, public campaigns, celebrities, and political figures have all made ethical fashion a major buzzword. Recently, in an interview, His Royal Highness—The Prince of Wales, Prince Charles shared his views on sustainable fashion and how the challenges can be tackled in the industry. He believes in the concept of reuse, repair or mending clothes instead of just throwing them away. He feels the need of growing awareness among consumers to head towards a circular type of economy. Emma Watson (Actor, Activist, UN Goodwill Ambassador, Time's Up Advocate) made a media buzz with her five-piece red carpet look in monochrome at the Met Gala 2016 designed by Calvin Klein. The body part of the outfit was formed from three different kinds of fabrics all woven from yarns out of recycled plastic bottles, the zippers from recycled materials and the inner bustier from organic cotton. Not only the materials, the entire outfit was also repurposed and could be used as separates with different styling in future. Emma has been a strong supporter of eco-fashion, which is clearly evident when she wore outfits approved by sustainability consulting group Eco Age for the promotion of her films 'Beauty and the Beast' and 'The Circle' and documented it on Instagram. As a guest editor of March 2018 issue of Vogue Australia which themed 'Designing the Future', she shares her view on sustainable fashion, encourages everybody to be thoughtful about fashion and challenges to all make a one-degree shift as a small change to bring in a huge difference. Sustainability is not free from challenges.
There are many standards to achieve from ensuring minimal carbon footprint to utilization of leftover fabrics. The use of organic raw materials, fair trade practices and artful management also makes clothing more expensive compared to the mass-produced products. But in the long run, sustainable fashion breaks even by lasting longer—and getting better with wash and wear with a positive impact on artisans as well. The awareness about sustainable fashion is in a nascent stage as it is still not as popular as fast fashion. The main drawback in going eco is the cost factor. The use of sustainable fashion products and materials will cost much more than using conventional materials in some cases. The manufacturers fear that the increase in cost will make clothes pricier and beyond the reach of ordinary families with middle-class economic background. From the current point of view of designing clothes, much attention are now being paid whether, those are sustainably produced and are fashionable—they have to be something that people want to wear with a socially responsibility. Fashion is a language through which one's individuality is expressed. Customers want to feel great about their clothes, and that includes feeling great about how they were made with a concern of social responsibility. Fair wages and happy workers are being included in ethical policies—and they are a strong selling point too. Switching to fashion that is more ethical option does take forethought; the health of the planet and the safety of workers in developing nations are taken seriously. Ethical fashion must be promoted for a secure, healthy and sustainable future.
It is the collective responsibility of everyone in the product value chain from producer to final consumer, to ensure that no harm to the surroundings during the overall cycle of production and consumption. It is essential to value our environment and traditional craft heritage for true growth and prosperity as unsustainable practices can give immediate benefits but it will strike back in the long run.