While some of you might know what it takes to create a business, have you ever thought about what it takes to build an entire industry? Su-Kam and its founding managing director Kunwer Sachdev is a shining examples of what it takes to create not only a business but an entire industry. Starting with just an idea and Rs 10,000 as capital, Kunwer has created the biggest Indian corporate in the power backup industry, Su-Kam, which churned out Rs 600 crores just last year, enjoying a hefty 50% of the market share in the organized sector. n his
So now, the question on your mind must be: What did Kunwer do to create an industry when none existed? It started with spotting an opportunity. Next came creating a superior product. Then, he worked on creating distribution channels and kept emerging with new waves of innovation that ultimately forged a new industry. Below story is based on the book Making Breakthrough Innovation Happen: How 11 Indians Pulled off the Impossible written by Porus Munshi where he shared the journey of the Inverter Man of India and Solar Man of India, Mr. Kunwer Sachdev.
The humble beginning
In 1997, Kunwer bought an inverter for his home, but its quality was so poor that it required a visit from a service person almost every second day. This is because those initial inverters belonged to a nascent industry governed by unorganized players where technology and standards never existed. Almost anyone could enter this industry and establish their own business, only to quickly run out of their customer's favors.
As Kunwer opened his inverter one day, he soon realized that this product could never work, which meant this industry was bound to doom. Where others saw frustration, he saw an opportunity to cater to the billions of households in India that were perennially short of power. Every single household in India needed a new solution.
Motivated by his new discovery, Kunwer started working on a small prototype after studying almost all inverters in the Indian market in 1997. The only outlier was the Videocon's inviter which, despite its great features, was unable to cope with the fluctuating power conditions prevailing in the country. The result was Su-Kam's first inverter, an improvised version of the Videocon inverter adapted to Indian power conditions.
As soon as Kunwer launched his new inverter, he knew that his current team of cable TV engineers wouldn't be able to innovate further, which is why he needed a new team, as technology was the only way forward.
He needed to hire, which is why he put together an eclectic bunch of people from different industries. Some were from the UPS industry, some were from diverse digital product industries, and some even from the missile industry, one of whom currently heads his R&D department. He made another person from the automobile industry. This enabled his team to look for ideas and innovations outside the usual electric industry rather than succumbing to the temptation of serving the market.
Once Kunwer decided to drive growth through technology, he sourced the MOSFET technology, and in 1998 Su-Kam launched India's first MOSFET inverter, which was one-fourth the size, enabling them to use one battery instead of two and ensuring improved efficiency while reducing costs.
The rise of Su-Kam
The launch of the MOSFET inverter put many local manufacturers on notice as they were unable to match Su-Kam in either price or quality. Rather than driving them out of the market, Kunwer gave them a choice to join him as a distributor or a dealer. Looking at the way the industry began to consolidate under Kunwer, unbundled players started to get bundled and joined the new revolution. Of course, there were a lot of challenges as Kunwer tried to move from an unorganized industry to an organized one as they had to get people from other industries, train them, inspire them and send them out in the field. They even began channel meets and dealer meets to educate them about their products, finally laying the foundations for a new emerging industry.
When Su-Kam needed to build a highly visible brand with minimal advertising expenses, he first started to put his banner on all possible pillars and walls, which any other player did not target. In 2000, he became the first person at the time to put Su-Kam's banners on all dhabas, which also featured their dhaba's name to create a perfect win-win situation. Kunwer was also the first person in the power backup industry at the time to start strip advertising in the classified columns to save costs. Soon, Su-Kam advertorials started taking up half of classifieds' space. As many say, newspapers even changed their classified policies because of him, but not before Su-Kam benefitted greatly from it.
Constant Innovations
Following the launch of the MOSFET inverter in 1998, Kunwer unveiled the first sine wave inverter in India in 2001. This innovation offered a pure form of electricity for running delicate equipment as opposed to the outdated square wave technology used before. Since Meerut and Kanpur are the two places in India where any inverter would most likely malfunction due to the regular power fluctuations, he selected them as the sites for his live trials. After much testing and research, an effective inverter was developed that not only eliminated the annoying buzzing sound that inverters made but also enhanced the power quality.
Next came the plastic body inverters. When they were introduced in 2002, these inverters were unmatched in India and globally. At the time, all inverters were made of metal since no other material could resist the high operating temperatures, which frequently reached 120 degrees. However, Kunwer said that utilizing plastic will improve the aesthetics, weight, and shockproofness of his inverters. The world's first plastic body inverter was created after Kunwer entered GE with a functional model of the device, a pre-designed mould from another Indian manufacturer, and all he required from GE was the correct kind of plastic. Competition tried to imitate him, but only one business, Su-Kam, passed the standards set by the governments of Punjab and Uttar Pradesh!
In 2003, the next success came when Kunwer chose to combine the inverter and the UPS, two different power backup systems, to produce the first home UPS ever made. This inverter had two functions. The first was to use a UPS as an inverter to increase the power backup dramatically from 10-15 minutes to 2-3 hours. The second involved utilizing an inverter to act as a UPS to generate reliable electricity that was even purer than that supplied by the grid.Su-Kam experienced great success as a result of the fact that a UPS was taxed at 4% while an inverter was taxed at 12%. Kunwer took advantage of this chance to lower the cost of his goods. Once more, the entire industry sought to imitate him, but when the government stepped in and ordered tests, only one product—Su-Kam—came out on top.
In 2005, Su-Kam introduced the high-frequency sine wave inverter. The 250VA inverter, which could power one tube light and a fan or two CFLs and a fan for up to six hours, was introduced in 2008. This was advantageous for those with limited resources, such as small business owners and dealers, because it only costs Rs 2000 (Rs 4000 with battery) and is completely portable. The traders could carry the complete package when they opened or closed the store.
Software to support all the hardware
Su-Kam also creates software and has two software patents. The PowerDoc Monitoring System, which aids in remote monitoring of all the larger KVA devices sold by Su-Kam, was the first piece of software. The second piece of software was the Recall Software, which allowed a Su-Kam repair or maintenance professional to learn without having to open an inverter how a certain inverter had been utilized during the previous two to three days.
Running an innovative organization is not possible with an innovative culture. Kunwer Sachdev turned his company into world beater by fostering constant innovations. He paid attention to little detail in thousands of things, from appraisals to recruitment to dealer meets, to product innovations and manufacturing innovations. He showed confidence in his employees and encouraged them to experiment. In short, he gave the freedom to make mistakes without holding them accountable, creating an industry that no one knew could have been possible without Kunwer Sachdev and Su-Kam.
Leaving Su-kam.
Under the able guidance of Kunwer Sachdev, the company kept expanding quickly and became widely known for its expertise in the solar energy industry. In fact, it also became widely known for filing the largest number of patents in the power backup industry. On average, two patents were filed each month – including 76 technology patents in India, the United States, and other countries. This was greatly influenced by Kunwer Sachdev's innovative mindset and ambitions. During his tenure, the company became the first to launch plastic body inverters, a product that made it on the list of the top ten innovations of the decade in 2010. The company also introduced innovative products, including India's first touchscreen Solar PCU with an MPPT solar charge controller that could be controlled remotely using a smartphone and wifi. It likewise introduced solar streetlights using built-in lithium-ion batteries.
Due to a series of unfortunate circumstances, Su-Kam Power Systems Limited went into bankruptcy, and Kunwer Sachdev became embroiled in several legal battles and was compelled to leave and disassociate himself from what he considered his own for 32 years of his career. The legal battles of a single entrepreneur who changed the map of the power backup sector in India continue to date. The company was closed for 2 years. 2019 Apr – 2022 Apr. No support was available. Nobody was picking up the phone or responding to emails. Customers and dealers suffered heavily during the period.
The turnaround and a new beginning.
The exit of Kunwer Sachdev from the company he founded and ran from its inception till 2018 left a vacuum for the customers, distributors, suppliers, and others connected with the company. Dealers and distributors, along with the customers, were suffering on one side of the services and materials lying with them unsold, and the customer's warranty claims were left without any solution. In these circumstances, after much struggle and challenges, his wife, Khushboo Sachdev, came forward to help Kunwer Sachdev.
With a lot of help and support from friends and family members, Khushboo Sachdev started a new venture Su-vastika under the mentorship of Kunwer Sachdev. She took financial help from Kunwer's friends and her relatives and started this new company she had no prior experience of running any company, but her own challenges forced her to start, and then there was no looking back. She planned, met people, and understood the whole process. She was new, but with her bravery and zest she created a team and started Su-vastika. She managed with her kids and took Su-vastika to new heights.
Su-vastika is here to drive the future of the power backup industry.
Su-vastika has built on new technologies as per the changing times. In recent years, battery technology has changed drastically, and hence power backup industry is also changing at a fast rate.
Su-vastika is built with a new thought as far as technology is concerned. The Inverter/UPS technology is going to be the things of the past, surviving on the age-old Lead Acid technology. From the storage point of view, Lead Acid battery technology is quite inefficient, bulky, and expensive. The future of battery storage technology is lithium based. Specifically, LiFePO4B has taken over the world and has given a new meaning to the storage and Solar Storage industry. So far, all the off-grid systems installed by the industry generally increase the user's power bill, which is a standard complaint. At Su-vastika the company is developing Solar Storage systems based on the LiFePO4 battery, which starts giving dividends the day they are installed. The major challenge with the existing lead acid hybrid solar system was related to charging (for both Tubular and SMF). Their cycle life is 20 percent of Lithium battery, so there is no competition for LiFePO4 batteries. Its charging concept is totally different when compared to lead-acid batteries. At Su-vastika the company has filed 3 technology patents based on similar technology to bring a hybrid technology that gives instant power backup in case of a power failure and saves power during power availability by using solar and lithium batteries.
The world has shifted to solar storage solutions, and solar Grid feed systems are not preferred, nor the hybrid offgrid solar systems preferred that is why Su-vastika has come out with the technology where solar is completely utilized by not only storing but running the load when solar is available even when the mains power is available.
Joining Su-vastika as a Mentor.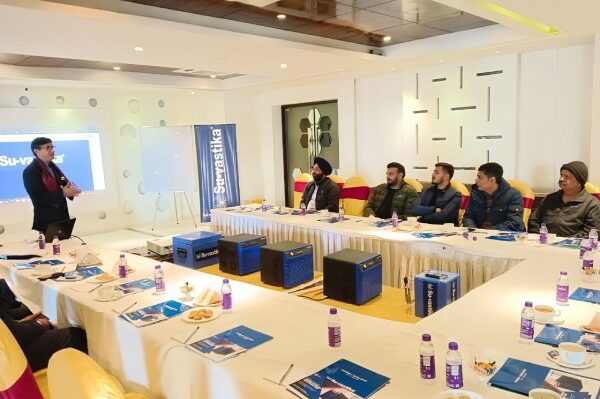 The products built by Kunwer Sachdev at Su-vastika outsmart others due to their easy handling and ruggedness. The products he has developed at Su-vastika are set to bring the next generation of power backup solutions to India.
Under his able guidance, Su-vastika made a record for being the only company in the power backup industry to file for over 60 patents, with six already granted. At Su-vastika he is continuously coming up with newer patent ideas, not just in the power backup industry but in many other fields related to energy, artificial intelligence, communications, etc.
Some of the key products developed by Kunwer Sachdev as a mentor of Su-vastika include LiFEePO4 battery technology-based Energy Storage Systems, Automatic Testing Setup for EV, PCB, BMS, Solar compatible EV chargers and Emergency Rescue Devices for lifts and elevators.
"I wish to see every household in India get powered by solar energy. I want every business, big or small, to invest in solar energy and reap the seamless benefits of this natural resource," says Kunwer Sachdev.
Kunwer Sachdev is once again revolutionizing the power backup sector in India. With so many innovations he is doing with LiFePO4 batteries, he is set to acquire a new title, "The Lithium Man of India."