Google Maps is undergoing a transformation, introducing several AI-powered features to improve user experiences and provide a more comprehensive search capability. The enhancements aim to make Google Maps more like Google Search, allowing users to enter vague queries and discover a wide range of useful information.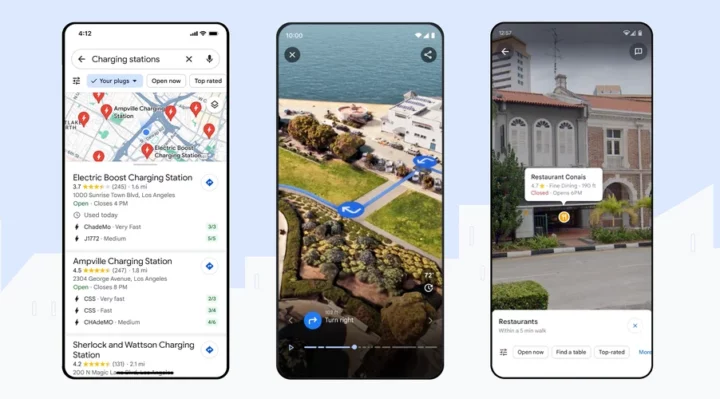 Key features and improvements include:
Immersive View: Google Maps' Immersive View is expanding to more cities, offering a 3D perspective to help users navigate more easily. This feature provides additional information such as local business locations, weather, and traffic.
Better Organized Search Results: Google aims to make Maps more search-oriented, like Google Search, by allowing users to enter broad queries. This will lead to better-organized search results, helping users discover new places or experiences based on real-time analysis of user photos.
Neural Radiance Fields: Google uses generative AI, specifically neural radiance fields, to analyze billions of user-uploaded photos, including aerial images, street photos, and indoor shots. This technology creates a 360-degree experience for users, providing rich visual content.
Traffic Information: Historical traffic data is processed through Google's predictive algorithm to help users find the optimal time for travel with minimal traffic congestion.
EV Charging Information: Google Maps now informs users about the last usage of an electric vehicle (EV) charging station, helping EV owners identify if a charger is operational. Users can see when a charger was last used, offering greater confidence in finding working chargers.
More EV Charging Details: Users can access information on charger compatibility with their specific EV model and the charging speed (fast, medium, or slow).
Places APIs for Developers: Google provides updated Places APIs to developers, enabling car manufacturers to include real-time EV charging location details on their vehicle's infotainment screens.
Immersive View Availability: This 3D view feature is available for Android and iOS users in 15 cities, including Amsterdam, Barcelona, London, New York, and San Francisco.
Lens in Maps: The augmented reality feature "Search with Live View" is rebranded as "Lens in Maps." It allows users to use their device's camera for AR-based search information, eliminating the need to search for nearby businesses. It is now available in 50 additional cities.
Visual Improvements: Navigation in Google Maps is receiving a makeover with updated colors, more realistic building representations, and improved lane details for complex highway exits. Users in the US will also see high-occupancy vehicle (HOV) lanes, speed limit information, and other enhancements.
Google aims to offer an immersive and AI-driven experience while maintaining its status as a comprehensive source of fresh and accurate location-based information. This strategy aligns with Google's commitment to integrating AI into its products and staying ahead in the competitive AI landscape.